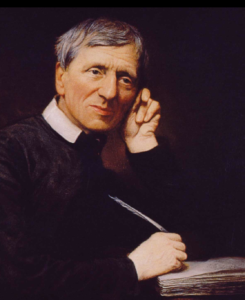 St. John Henry Newman (1801-1890), was beatified (called "Blessed") in 2010 and canonized (called "Saint") in 2019.
"St. John Henry Newman's views challenged the status quo. But it turns out, much of what he wrote, and many of his thoughts, were later applied to the Second Vatican Council. He recognized the importance of searching for truth through academic rigor and dialogue. He helped to demonstrate the value and importance of all people in the Church by encouraging the faithful to have ownership in the Church. St. John Henry Newman truly recognized all people as living stones of faith.
My prayer for you is that your involvement in Newman Campus Ministry helps to develop these values, allowing each and every one of you to grow in your relationship with Christ, and to also be those missionary disciples who are willing to proclaim the goodness of the Lord with your lives."
– Bishop Edward Malesic, 12th Bishop of the Catholic Diocese of Cleveland, in "Message from Bishop Malesic for Newman Feast Day" (Video below!)
A Brief History of Why Catholic Campus Ministry in the United States Is Named After St. Newman
Throughout history, the Catholic Church has had a serious interest in the preservation of knowledge. The first universities in Europe, from the 12th century on, were Catholic institutions established for training clergy. By the late 18th and early 19th centuries, Catholic universities were being founded in the United States. Even on the campuses of universities not affiliated with the Catholic Church, the Church has seen fit to minister to the Catholics who study there, so Catholic Campus Ministry was begun on secular and other faith traditions' college campuses.
In the United States, these Catholic Campus Ministry offices are now commonly known as "Newman Centers," named after St. John Henry Newman (1801-1890), a British man who had been a professor at Oxford and an Anglican priest, yet as he studied early Christian writing, he grew more and more convinced of the authenticity of the Catholic Church. He led many other Anglican scholars and clergymen in a more Catholic-dogmatic direction within Christianity (referred to as 'The Oxford Movement' of the mid 19th century.) Eventually, Newman realized he could not change the Anglican Church, and he became a Catholic priest (and later, a Cardinal).
Newman was a man of letters and is considered one of the major writers of the Victorian era (1837-1901) in England. His writings on Theology have remained enormously influential in the life of the Catholic Church, affecting many of the reforms at the Second Vatican Council (1962-1965). (Newman's writings are cited in council documents more than any other writer, including St. Augustine of Hippo or St. Thomas Aquinas.) Newman's work, The Idea of a University (1852), on the distinctive purpose of Catholic higher education in Ireland, is read widely to this day. Two institutions he helped to establish, University College Dublin and the London Oratory, both thrive to this day.
It is because of Newman's own attentions to serving Catholic students at the college level that his name has become synonymous with Catholic Campus Ministry in the United States since the late 19th century, a few years after his death in the U.K.